The Ultimate Guide to Soapy Massages
liam
Our Ultimate Guide to Soapy Massages
If you're an erotic massage advocate like me, you'll know that experimental styles will never be in short supply. From Sensual right through to 4 Hands, there's a massage style that suits everyone. However, there's been a term springing up on my newsfeed of late, and its really fired up my curiosity.  A 'Soapy Massage'- ring a bell? After doing a little research myself, this seriously sexy (and apparently hygienic) style of erotic massage is making its European debut in the UK. Previously restricted to Thailand and Japan, this unusual new style has now made its way across the world to the point where you can even find a soapy massage parlour in London, Manchester or even Ireland, and for very good reason!
What Happens?
Like Body to Body and Nuru massages, this style of massage involves a great deal of body to body contact with the masseuse. If you are, however, clueless when it comes to kinky  massages, Nuru and Body to Body are known for their use of special oils and gels to make it easier for the masseuse to slide across and grind against the clients body. So basically, if you haven't already worked it out for yourself, a Soapy Massage is essentially the same but uses soap as the lubricant, not gel. The perfect massage for clean freaks if I do say so myself! But the best part is, most London parlors offer an Outcall massage service, meaning you can experience this in the comfort of your own home. Winning!
So, let's tell you a little bit about what there is to expect. This might seem a little unnecessary, but your masseuse will begin by asking you to shower and wash off any excess dirt or sweat. Regardless of whether the massage uses soap, you don't want a stranger sliding all over your body covered in sweat do you? Once clean as a whistle, you'll be lead to a specially designed air mattress or protective sheet and will be asked to lie face down. Your masseuse will proceed to give you a full body, relaxing massage which will iron out any tension and stress from your body. Once totally chilled, the bubbles will be introduced and the real fun will begin…
Your masseuse will drizzle soap across your body and will use her magic hands to rub it in. The special formula is designed especially for skin, and will actually nourish and moisturize it- so for all of you sensitive-skinners', do not fear! Once both you and your masseuse are totally soaped-up, she will mount you and begin to grind, slide and glide across your body with her own. It's majestic as it sounds, seriously. Oh, and did I mention that you will both be totally naked? Now is the time to paint a mental picture if you haven't already… Using special techniques, your hot and very wet masseuse will use every inch of her body (yes, all of it) to make you insanely aroused and excited, and of course will have her fun with you too, if you catch my drift…
Like most erotic massages, the aim of the session isn't to orgasm, but it's pretty much guaranteed as you can probably tell. Your masseuse won't dive straight in and try and get the session over and done with as quickly as possible, she will tease, touch and caress you until you're literally begging for her to put you out of your beautiful misery.  When you do, you know, burst your bubble, the chances are it will be the most mind-blowing release you will ever have. If you weren't a fan of bubble baths before, I bet you sure are now. The session will end with another shower, but this time, your saucy masseuse will join in for some last-minute fun. Sounds the cherry on top of a gourmet cake if you ask me.
The Benefits of a soapy massage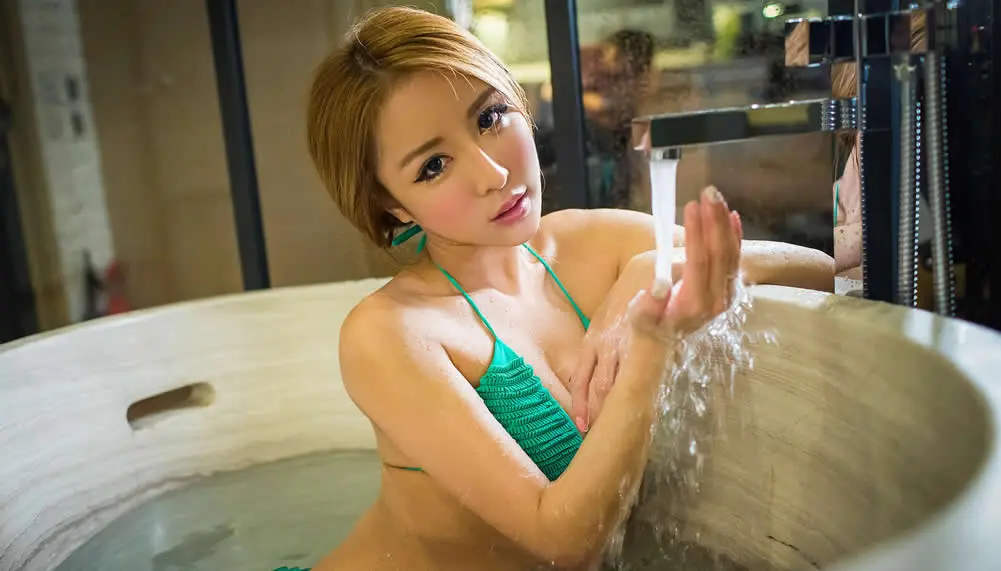 Apart from being crazy clean, this style of massage is more beneficial than you might think. Aside from feeling great, the special oils and components within the soap can actually improve circulation to the skin, increase nutrition to the cells and encouraging cell regeneration. If that wasn't good enough already, it helps to improve the elasticity of the skin, which in layman's terms means: less wrinkles girls! But wait, it gets even better. This massage can actually increase the production of sweat from the sweat glands, helping to excrete urea and waste products through the pours of your skin. This full-body facial will leave you feeling like as silky as a dolphin; but it isn't just great for your skin.
Generally speaking, erotic massages are derived from Tantra, which is an ancient and incredibly spiritual practice promoting mental well-being. This is a very intimate style of massage, so will therefore encourage your body to produce higher levels of oxytocin, a chemical which promotes happiness. If you suffer from illnesses such as stress, anxiety or depression, this massage will relax you, mind, body and soul, and is a great way to release negative energies.
Body conscious? Do not worry- stressing about your figure is the last thing you'll be doing during this massage. By touching, caressing and stimulating every inch of your body (not just the naughty parts) your masseuse you will teach you to love your body as a whole, including every single lump and bump. Your expert masseuse will help you to locate places across the body that can induce pleasure, and therefore happiness. Positive association is the key to body confidence, and this massage will certainly not disappoint. So basically, if you want to leave the room feeling like an extra from 300 but can't be bothered to work out, here's your solution.
Our Verdict
I think our verdict is pretty clear, but I'll spell it out for those of you who can't see true love when it slaps you in the face. These massages sounds god damn amazing!  It's like a raunchy sex session and spa treatment rolled into one- but for way less money?! If you're looking to get down and dirty (although it's not actually that dirty, it's actually really clean-LOL) this style should definitely be considered. Whether you just want to relax or have fantasised about erotic slip n slides, this baby ticks all of the boxes. Be right back, just going to make a phone call…