7 Things You Should Know Before Trying a Nuru Massage
liam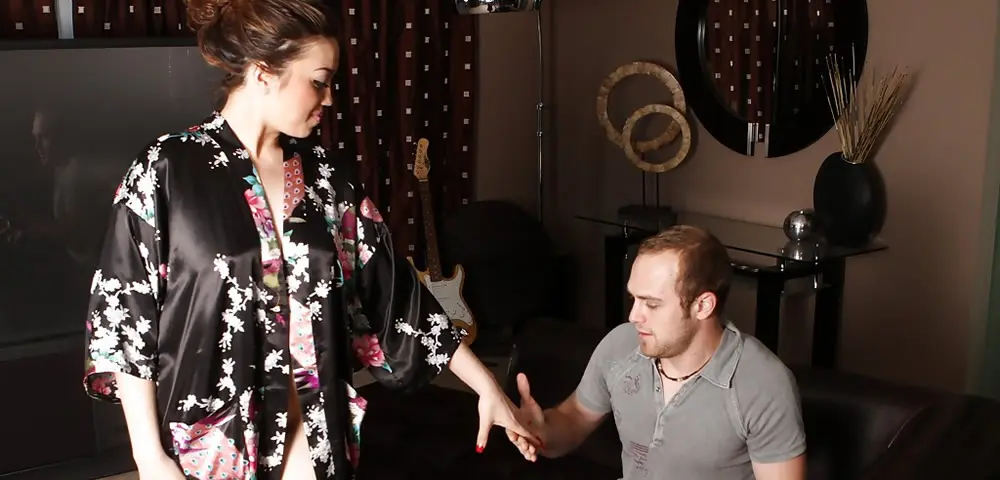 What's the first thing you think of when you think of an erotic nuru massage? Is it soft hands rubbing silky massage gel all over bare skin? Is it the sensual caressing of two bodies as they slide over each other? Or do you think of what it might lead up to – as massage scenes on pornographic websites so often involve? Whether you think of something dirty or a more refined way of seduction, nuru massages are incredibly sexy experiences. If you're here, you're probably a little more than curious to try it out.
If you're not too familiar with erotic massages, a nuru massage is one where the masseuse uses her body to massage the client. Instead of massage oils, she uses a special gel that's extremely slippery and allows her to slide freely over the receiver's body. Because of the full body and bare skin to skin contact, a nuru massage is highly erotic and couples may use it as a prelude to intercourse or purely as a non-penetrative sexual act.
Sometimes the same old foreplay tricks get old and you want to spice up your sex life with something new. A nuru massage is that fantastic, new thing. It's a fun way to explore your sexual fantasies, desires and love your secret kinks. But before you try out a nuru massage, you should be aware that there's so much more to erotic massages than oily 'dry humping' and raw, animalistic passion.
Erotic massages focus on stimulating the whole body, the sexual areas in particular, with the aim of arousal. They believe that sexual pleasure and orgasms are the ultimate cure for stress, anxiety and a number of other physical conditions too. Erotic massages are a great form of sex therapy and helps with a lot of intimacy issues. Nuru massages, for example, are so incredibly intimate that you'll find yourself connecting to your massage partner spiritually as well as physically. There are several fantastic physical and mental health benefits too, so overall, nuru massages should be somewhat of a staple activity in a couples' everyday life.
However, as beneficial as they are, nuru massage is an art that should not be delved into spontaneously without prior research. Professional masseuses have trained for years before practising. Nuru massage requires skill, trust and respect for you to successfully reap its benefits. It's actually a lot harder than the pornstars make it out to be. Here are seven things you should know before you decide to try a nuru massage.
1. Get all the proper equipment you need
Nuru massage is a very specific style of erotic massage that requires specific things. First and foremost, it isn't a nuru massage without the nuru gel. The gel is made from Nori seaweed and is quite viscous. It's clear, colourless, odourless and doesn't stain, but it does get quite messy. Although you use warm water to dilute the gel and make it slippery, it can congeal. To save on cleaning time, you can purchase nuru sheet sets or plastic sheets to protect your bedsheets. Nuru massage needs to take place in a roomy area (you need enough room to manoeuvre your body over your partner's). An air mattress set up on a roomy floor space is ideal.
Unlike other massage styles, you can't skimp and make do with alternatives – you need the actual items or you won't get the proper experience.
2. Do your research beforehand
Thoroughly research nuru massage before you try it. Read about it and watch videos, even porn. This will give you an idea of the mind-set you need to have and the movements you should make.
3. Be confident
A nuru massage requires a great deal of sexual confidence. Because a nuru massage is best performed naked or semi-naked, unless you're already very bold and have little to no insecurities about your body, it can be easier said than done. You'll likely feel silly as you promiscuously slide and grind your crotch and breasts against your partner, but with this type of massage, you have to go all out. Just remember that no-one's watching you and your partner thinks you're the sexiest person in the room. Channel your inner sex goddess and slide away!
4. Relax – just laugh it off and have fun
Although it's incredibly sexy, it's important to stay relaxed to maintain this mood. If that means laughing off any awkward movements or struggles, just do it. Have a giggle, go with the flow and just have fun.
5. Have an open mind
A nuru massage is so intimate that you'll feel yourself connecting with your partner on a spiritual level. Don't stop this even if it makes you feel weird. Embrace it.
6. Don't think, just feel
Don't overthink. A nuru massage is meant to awaken your sexual instincts, so just follow your gut (and groin) and let yourself do all the dirty things you've always wanted to do. Feel your arousal spreading through your body and be instinctual. To take things to the next level, use a blindfold on your partner to enhance their senses.
7. Try a professional nuru massage
If you want to try a proper nuru massage at the hands of a professionally trained masseuse, book yourself in for a session with us. For £150 an hour, it'll be an experience you won't forget! We highly recommend the sexy Sarah for this service, you can see her profile on our main website where we offer japanese nuru massage services, soapy massage & much more