The best adult Asian Massage Near Pimlico sessions await, Choose from the hottest of Chinese, Japanese or Korean ladies to take you on a relaxing and sexual journey like no other.
We are not a traditional massage service!
Our massages are designed to be nude and naughty. And we do not offer traditional/therapeutic experiences such as Swedish massage, Deep tissue massage, Thai massage, Slimming massage, Shiatsu massage, Aromatherapy massage etc that you might find in a spa or beauty parlour. Our massages are fully nude, and for adults only with plenty of intimate touching and sexual desire!
The sexiest of Asian ladies near Pimlico London
We work with some of the sexiest ladies in Pimlico and the Central London area. All from the far east of Asia and ready to give you a session of a lifetime with an actual open-minded experienced masseuse. Choose from the hottest Japanese, Chinese or Korean ladies below to get your session started with us with a true sexy female massage therapist. Be sure to click through to see more photos, prices and reviews.
Outcall experiences near Pimlico London
Our outcall experiences are the perfect way of booking with us and give you many benefits and take the stress out of the whole experience.
We are outcall experts and make sure your session at your location is fully discreet and confidential. We do not keep logs and the masseuse will not draw attention when meeting you in any way we are professionals keeping things confidential.
You can enjoy an outcall session at your hotel or home around Pimlico or anywhere in Central London.
An incall experience?
We do not currently have a pimlico massage parlour at this time but we do have a massage parlour over on Baker Street in Marylebone (around 30 minutes via public transport).
This means you visit us but you won't need to be staying in a hotel and is our ever so popular no-host experience with our flexible and extended working hours. Getting the adult massage of your dreams has never been so simple.
The perfect selection of adult massage services
Before your session, you need to know which experience you would like to enjoy as each technique brings something different to the session.
From the furious Tantric massage to the slow and sexual sensual massage we know we have the perfect experience for you from beginners to advanced and any body type. Remember each and every session comes with a complimentary happy ending (handjob) or you can upgrade to full service (oral sex and sex) for a small extra fee. You can read more about this on our website or speak to the reception team for a confidently
The full body massage experience
We have a wide selection of full body massage experiences that you will not find in any spas in London. All are designed to be different but all have the same output. And this is complete satisfaction and sexual delight.
Erotic Massage
The perfect treat any time of the day the erotic massage is the perfect all-around mix of both pleasure and relaxation. Let your naked masseuse explore your naked body from head to toe using a secret ritual of strokes all around your body to take you closer and closer to climax!
Body to Body Massage techniques
These full body massages are the true double authentic Asian experiences one with a special gel that creates a sexy and fun slippery adventure (Nuru) and the other is a full grinding body massage filled with desire, suspense and plenty of adult teasing. That just feels so good you will never want it to stop!
Tantric Massage
Tantric massage is a complete full-body massage experience! And is the best when it comes to pleasure and hitting the spot. Each stroke takes you on a mindful and physical journey of pleasure while the masseuse brings you closer and closer to orgasm.
Tantric massages are the perfect massage even for your first time! Read our complete guide on our website.
Prostate Massage
Prostate massages are becoming extremely popular in the Pimlico London area and for good reason. A lot of men are now trying this type of technique to grab all the pleasure they didn't know their body was capable of producing.
This is from a process called prostate milking that has great health benefits. As well as waves of pleasure since you are getting the raw nerve endings of your g spot massaged after all!
We have more pages on our website to view more about all the different techniques that we love to offer.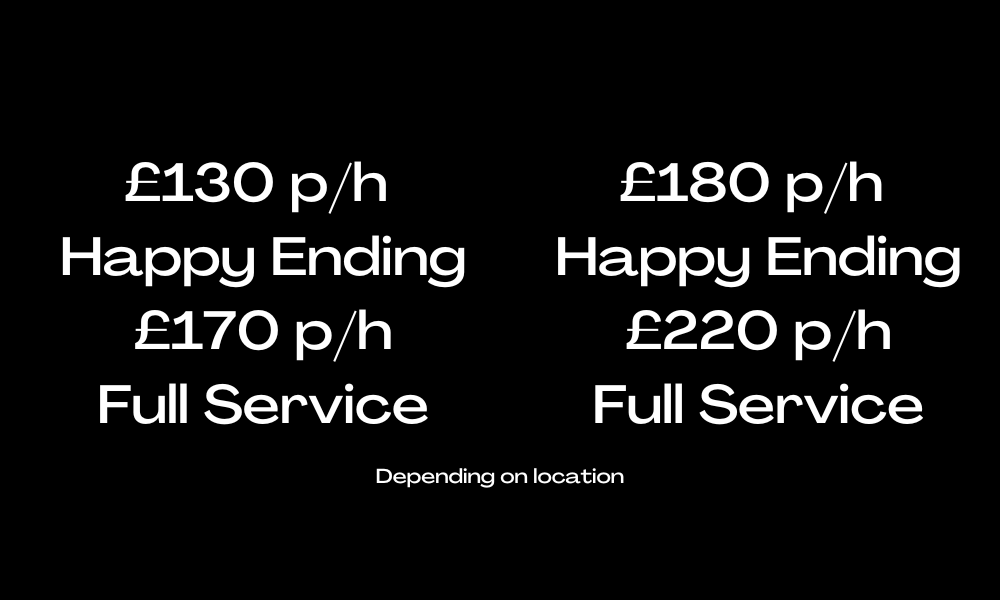 Making a booking with us near Pimlico London
Your discretion is our priority. And we have many options of masseuses and techniques to enjoy on both an incall and outcall basis. And we offer an appointment-based service from Monday to Friday and weekends from 10:00 AM to 03:00 AM.
This gives you plenty of time to contact us for your session. We only accept appointments on the day.
For specialised services such as a couples massage or 4 hands massage our reception team can help with this. We understand free parking is hard to find in London this is why outcall and incall is the preferred way.