The affluent and ever-changing area of South Kensington is the home of the rich and famous and has plenty of hotels to enjoy our tantalizing and exciting range of adult massages and services.
We have been offering this service for years now and our masseuses are the best in the business each session is carefully crafted to give you the best experience so you keep coming back time and time again.
Do we offer outcall services?
Yes! We primarily offer an outcall-based Nude Massage South Kensington service at your location in London South Kensington. This means you won't have to take the journey over to our parlour and the masseuse will travel to you either in South Ken or Central London.
This makes for a relaxing experience all you need to do is open the door to the truly head-turning and beautiful massage girl that will be waiting to give you the session of a lifetime.
The sexiest of massage girls
Our Gallery is the perfect example of beautiful Asian masseuses that you could be meeting tonight. Choose from our range of authentic and naturally sexy Chinese, Japanese and South Korean ladies all perfect for a visiting massage you will always remember. Explore below and have a click through to the different masseuses and find out more information, reviews and photos.
Incall in south kensington?
At this moment we do not currently have a massage parlour/massage room in South Kensington. We currently only offer incall massage services in the Marylebone area of London which is about 30 minutes away via public transport like the tube from South Kensington tube station or just 15 minutes by taxi. This makes South Kensington London the perfect place to stay and enjoy west London but still indulge in our services.
What services can you enjoy in South Kensington with us?
We offer a wide range of professional yet deeply satisfying sexual-based massage services that allow you to connect to your deepest desires, make you feel amazing, and help you relax and experience true pleasure. Allow the masseuse to give you the pleasure you didn't even know was possible from their skilled hands that will keep you coming back time and time again.
Body to Body Massage
A true b2b massage experience is the perfect way to get you into our world of adult massages and allows you to experience all the sensations that an adult massage brings. And is perfect for our amazing and deeply satisfying full service and happy endings!
Tantric Massage
Our Tantric massage in South Kensington experiences is the best around. And always done to the true authentic standards that have been used for decades all around the world. Experience pleasure and delight like no other with our South Kensington tantric massage experiences.
Erotic Massage
Our South Kensington Erotic massage experiences have been fine-tuned over the many years that we offered adult massages and are the perfect feel-good all-around experience.
This can be performed with or without massage oil to your liking and you can experience a variety of different strokes and techniques to really bring you closer to orgasm and get that blood pumping. Erotic massages are the way to go!
Nuru Massage
Always done with Authentic Japanese nuru gel and this is a massage to really open the senses. This is our VIP massage in South Kensington experience.
Sensual Massage
A true sensual massage is designed to be just like a traditional massage such as Swedish massage but with plenty of amazing intimacy and intimate touching all around and is a full body massage.
If you are looking for a deep connection with our masseuse but want to experience pleasure then a sensual massage is the best of the best and can be enjoyed any time of the year day or night.
Prostate Massage
A prostate massage is an ultimate experience for that orgasmic pleasure you can rely on. And is performed by doing a process called prostate milking! This rush of pleasure is due to the masseuse massaging your male g spot and is perfect with a happy ending! Be sure to check out our full prostate massage guide.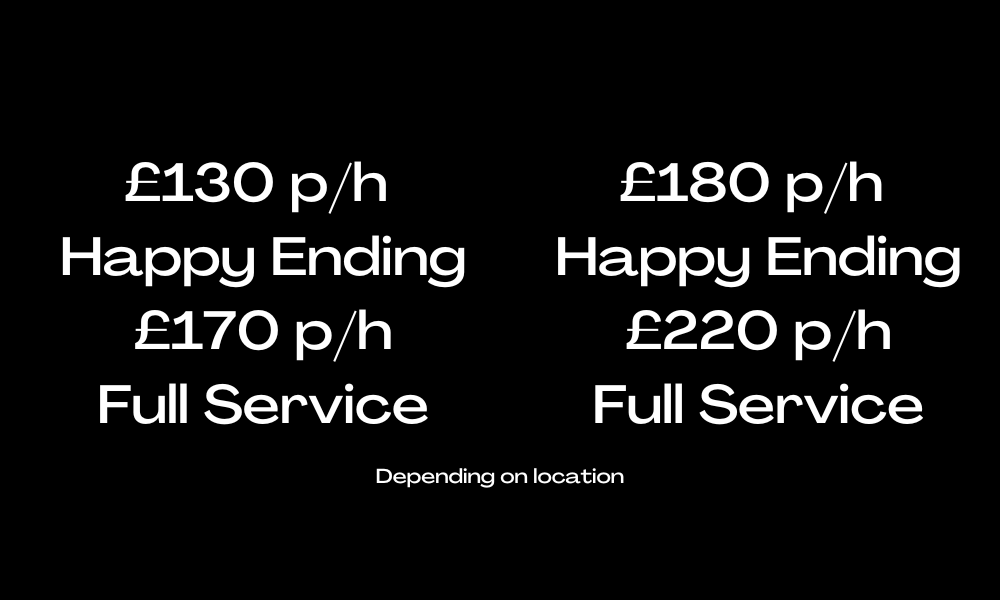 Making a booking with us
We have a simple booking process by phone and currently, you can't book online. Our reception team can be contacted via the button on this page and we are open from 10:00 AM to 03:00 AM. Including Saturday, Sunday and Bank holidays.