The ultimate four hands quiz
liam
Are you ready to take our 4 Hands massage quiz?
Four hands is the crème de la crème of adult massages. Whether you're four hands regular or a newbie to the service why not test your knowledge with our ULTIMATE four hands quiz? Answer with true or false to the following nine questions. (The results are revealed at the bottom – and remember, no cheating!)
Questions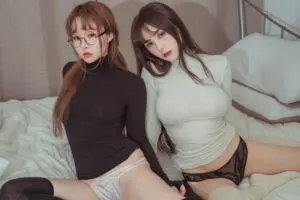 Four hands is performed with two masseuses
Four hands is only available as an incall service
You and your masseuse have to be fully naked as part of four hands
You can have whatever massage you want as part of four hands
Four hands is always performed on a bed
Four hands involves sex
Condoms are always worn as part of four hands
You have to be 18 to have four hands massage
Anyone can be a four hands masseuse
Answers
TRUE. Yes, four hands is always performed by two therapists. Whether they perform the sensational strokes in unison or work on separate areas of your body is entirely your choice.
FALSE. As well as enjoying four hands at various massage parlours, you can also indulge in the sexy service for outcall too. Once your session is booked, two smoking hot therapists will make their way to a location of your choice, whether that being your hotel, home or private office space.
FALSE. No, there's no obligation to be completely in the buff for your four hands massage. If you'd prefer to keep your clothes on or remove part of your garments is totally up to you. However, most clients do choose strip off completely from the get-go because the skin-to-skin naked strokes feel INCREDIBLE.
TRUE. Many people believe four hands to be a massage style, but it is in fact just the name for the two therapist service. If you've booked a four hands Asian massage, you'll be able to cherry-pick from 10 delicious styles of massage for your rubdown. These include:
Erotic
Sensual
Tantric
Prostate massage
Nuru
Body to body
Lingam massage
You can find out more about our Massage styles by clicking here
Boy, four hands really does spoil you!
FALSE. Contrary to popular belief, four hands aren't limited to a bedroom setting. For outcall especially, you can get super spontaneous with your four hands hotspot. The sofa, kitchen table and even some makeshift cushion area can do the job just as well.
TRUE. Yes, four hands massage is available with the delicious full-service package, which is an ultra-exhilarating massaging feast. Full service comprises of the elements of the fully naked massage in unison, followed by oral and sex. It's important to note that not all four hands treatments comprise of penetration. Four hands happy ending involves the twosome full body massage, with hand relief until orgasm.
TRUE. Yes, condoms are worn at all times during four hands massage. Requesting for it to be removed or not worn more than once will likely lead to you being blacklisted from the parlour. Wearing protection ensures 100 per cent safety for not just the therapist, but yourself also.
TRUE. Yes, due to the highly erotic nature of four hands you do in fact have to be 18 to undergo the treatment. (This is the same for all erotic services) Most parlours have a Question 25 Policy, which means they will need to check IDs of all customers who look under the age of 25. If you're a young male then do ensure you always bring your Passport or Driving Licence to the parlour to avoid being turned away.
FALSE. To be a four hands masseuse, you need to obtain a licence which shows that you are qualified to perform erotic therapies and are in agreement to undergo regular health and wellbeing checks. Most masseuses train at prestigious Tantra schools in Asia before moving to the UK to work as an erotic specialist. Licenced therapists are also obliged to undergo STI screening on a fortnightly basis. Failure to do this will lead to the therapist being stripped of her licence.
Booking your 4 Hands Massage with us
Now we've quizzed you out, why not experience four hands for yourself with our gorgeous selection of therapists? We are available for incall and outcall all over London and can't wait to get our FOUR hands on you. Call our super-friendly booking line to arrange your super sexy, sensual and seductive appointment session 07823687012. Or why not have a look at our Outcall Duo Asian massage service page for London. We look forward to seeing you soon!