Four hands massage: Better than a threesome?
liam
Four hand massage is the holy grail of erotic massage. You get twice the fun, with not one but two gorgeous ladies lavishing attention over your whole body and bringing you to ecstasy. Just picture it – a truly decadent experience with two stunning naked beauties treating you like a king. For many men, the thought of two girls at once is the ultimate fantasy. For most people, this involves a lot of persuasion and organising, which leads up to a thrilling experience. But we believe we offer something even better! Here's why we think our massage actually wins out over a threesome!
Our girls are trained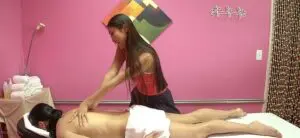 To us, massage is an art. We have a strict screening process ensuring we only hire the prettiest Asian ladies. And for us, the biggest priority is training. Tantric massage is an ancient art, and it's very important to get it right. Sometimes it takes years for our girls to be good enough. We take feedback from our clients and discuss what they want first so that we can be totally sure they have the best experience possible. If something is worth doing, it's worth doing right!
Many people fantasise about threesomes but are nervous and unsure when it actually comes to having one. And who can blame them? It can be hard enough to satisfy one person, let alone two! We believe we offer a better option with four hands massage. Our girls are confident and know exactly how to work together. They can synchronise their movements for a truly incredible erotic thrill, and know how to build up your pleasure leading to an explosion of ecstasy. This is something you can't get from just any girl! If you want a true thrill, it's best to go to a professional.
It can give you the confidence to have threesomes
The four hands massage experience doesn't have to be an alternative option to a threesome, it can also be a way of getting used to the idea. With us, you can get the experience in a controlled environment where we can see what works for you and what doesn't. You may even decide that you aren't quite ready for one yet! It's all up to you, we don't want to scare you off! This a good way of taking it slow and dipping your toe in the water. Our ladies are used to first-timers with all the massages, so they know just how to take care of you.
It's normal to have fears and insecurities when it comes to doing something sexually adventurous, and tantric massage is one of the best ways to tackle those fears. Our sessions are an hour, which is a lot of time to get used to the idea of two girls at once. Once you've had your massage, if you still want more, you will find that you already have a well-formed idea of what a threesome involves and you will be able to approach the subject with others. And when it comes to it, you will know it's nothing you can't handle!
Tantric massage can improve your sexual performance
Tantric massage isn't just a standard sexual service. Tantra is an ancient practice that teaches how to truly connect with yourself and the world around you, and to harness the energy present inside you. The sexual dimension of tantra worships the 'lingam' and 'yoni' (penis and vagina) and aims to create union and reverence. With tantric massage, the idea is to direct the flow of sexual energy and build up pleasure slowly, healing insecurities and blockages in the body's energy centres.
The healing touch of a masseuse can help relieve issues such as impotence, premature ejaculation, and body image. This kind of sexual issues can become a big source of anxiety when approaching something like a threesome. A session with a masseuse will relieve these problems rather than amplify them. You can talk to your masseuse beforehand and discuss your issues, and she can help you through targeting specific energy centres. Threesomes can go wrong, but this massage will leave you rejuvenated!
You can have it your way!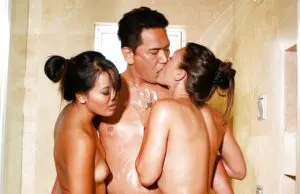 In our parlours, the customer is king. We have numerous massage styles and extras available, so you can customise your massage to suit you. It's like subway! Pick your massage – tantric, lingam, full service – and throw in extras such as perch kissing, prostate, and oral. What's more, you can pick your girls! Take a look at our website or choose in person when you visit our parlour. We have a group of stunning girls from China, Japan, and Korea for you to choose from, so we can perfectly suit your tastes.
Imagine two girls giving you a full-service nuru massage – covering themselves and you with warm nuru gel and gliding all over you, finishing with explosive manual, oral, and full sex pleasure! Or throw in kissing and prostate massage on top of an hour of tantric and you have a totally unique experience, with two girls giving you intense pleasure like nothing you've felt before! With a threesome, it can be more difficult to get exactly what you want, or even to find someone willing to do it, let alone two people! With us, your options are there from the start and you can choose it all to suit you.
There is no pressure to perform
Satisfying one woman is difficult enough – but two? Here, it's ALL about you. All you have to do is lie back, relax, and let your masseuses work their magic. Keep an open dialogue going and you can ensure your pleasure hits peak levels! You don't have to worry about impressing anyone or doing everything right, and our therapists will expect nothing from you except enjoyment. You have a whole hour where you are king, without having to worry. How many girls will be so open minded? Mutual pleasure is wonderful, of course, but sometimes it's just nice to treat yourself!
you may find it becomes your new obsession! Whether you've always wanted to try having two at once, or if you're not sure whether its right for you, we're here to satisfy you. Why not check our 4 Hands massage service page for Baker St in London and you could have an unforgettable experience tonight.