Seven things you didn't know about Happy Ending massage
liam
If you're visiting an erotic massage parlour the chances are you'll be able to experience a happy ending massage. Though we're in the 21st century, people still treat the service as a taboo subject – but in fact, happy ending goes much further than just a way of men getting their horny fixes fulfilled. Here are seven things you probably didn't know about happy ending massage.
It is combined with other massages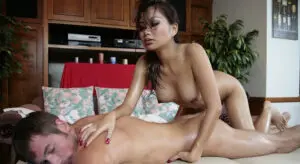 Though happy ending is classified as a massage, happy ending literally means the act of hand relief which comes with the experience. At the beginning of the session, clients are able choose the style of massage to begin their treatment with. Firm favourites are body to body, Nuru and Tantric as they are able to get the full body aroused before the masseuse commences with the naughtier bits. Most therapists offer more than 10 massages which can be combined with happy ending.
It is the only style which guarantees orgasm
While orgasm is welcomed with all erotic massages, happy ending is the only bodywork which guarantees the powerful explosion. But why is this you may ask? Well, happy ending masseuses use a technique known as edging. Edging involves the therapist trailing her soft hands all along your body to reach the erogenous zones and repeating. The beauty of edging is that it's unrushed, which helps stimulate a super intense arousal, before leading to the most euphoric point of no return. Most happy ending sessions give the client chance to orgasm twice is a one hour session, you really will feel pampered like a king.
It's not just for men
While we ALWAYS associate happy ending being a male thing, women can enjoy a happy ending massage too. The female equivalent is known as Yoni massage and can either be performed by masseur or masseuse, depending on the woman's preference. As you can expect, Yoni massage pays particular attention to stimulating the female erogenous zones, including the breasts, vulva and vagina. As well as pleasure, many women seek the bodywork to help relieve tension built in their most intimate areas.
It's AMAZING for your health
If you think happy ending massage is only good for sexy time then you are wrong, there are actually copious health benefits which come with undertaking the seductive procedure. Happy ending has proven to boost your immune system, eliminate stress hormones, as well as boosting your blood and oxygen circulation. These are key factors which lead to a healthy lifestyle.
It's also great for pain relief too
Migraines, back ache and injury pain – it's fair to say we do endure a lot in our lives. But are you fed up of paracetamol not doing anything to help? Well don't panic, happy ending massage is the solution. Studies stow the tantalising strokes of massage and orgasm triggers the rush of endorphins. Scientists have nicknamed endorphins as the 'human body's natural painkiller' as they help to block to pain signals from entering the central nervous system – which ultimately gives the receiver rewarding relief. So instead of a trip to pharmacy to stock up on painkillers, why not try it the natural way with happy ending as an alternative treatment?
It relieves all of your penis problems
Struggle with premature ejaculation, sexual stamina or maintaining an erection? Don't panic, we all do with age. Studies show that more than 65 per cent of men suffer from a penis problem by the time they reach the age of 50 – this is where happy ending massage can help you out. Practice makes perfect and regulars of happy ending find themselves to have improved penis control and the stamina of a porn-star. Well maybe not a porn-star, but definitely a stallion!
You can receive a happy ending at home
Of course, you are correct in thinking happy ending massages are conducted in oriental parlours based in busy cities, however many people are not aware you can experience the euphoric body in the comfort of a location of your choice. Many masseuses offer outcall whereby they'll bring the wonders of happy ending to your hotel, apartment or even workspace (if you have your own private office!) This allows you to kick back and relax as soon as the massage is booked. For a happy ending home visit expect to pay a little more, but travel fees for your masseuse are usually included in the price.
Want to try a happy ending massage yourself?
If happy ending is something you are interested in then call our helpful team of booking agents to arrange a session. We are open from 10am to 3am seven days a week, with happy ending massages costing from just £120. You know what they say boys, happy endings aren't just in fairy tales! Have a look at our Asian happy ending page for London or give us a call on 07823687012