Asian 4 Hands Massage service in London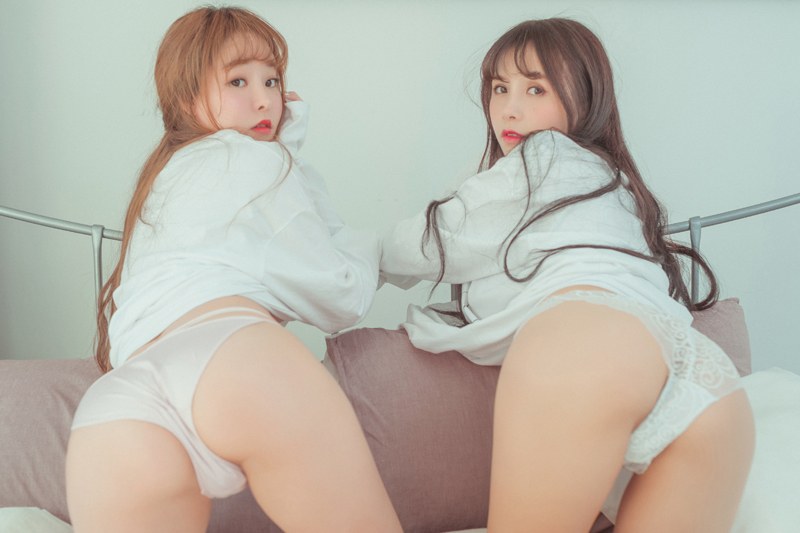 4 Hands Asian massage service in London
To experience the crème de la crème of massage services than where better way to start than a four hands session. Why have one sultry masseuse attending to every inch of your body when you can enjoy the company of two gorgeous massage therapists? A four hands massage can achieve all of your wildest fantasies and is available here at the Asian Massages London salon based in Central London.
To begin a four hands massage, two girls of your choice will take both of your hands and gently lead you to your own private treatment room. Once they've guided you to the bed, one will begin to sensually undress you while the other takes her figure-hugging garments off one by one right in front of your hungry eyes. Once you and your therapists are naked, the real thrills begin – and believe us boys, this promises to be an experience you will never forget.
The therapists will lay either side of you and commence with a soothing hands massage, unwinding all of your tension in your fingertips. They will then position you on your back and perform a full body massage in unison. Your whole body and mind will gain a new lease of life, as you feel at least 10 years younger.
Our team of qualified therapists boast the finest expertise in what is known as edging techniques. When edging is performed correctly it can tease you, can tantalise you and satisfy you like no other. To perform edging, the masseuses will work their way from your less sensitive to most intimate zones. When you're on the tip of a point of no return they will manoeuvre their soft hands away from your erogenous zones and repeat. This greatly builds the intensity of the orgasm which is to come. There's nothing like four hands massage when it comes to a euphoria of pleasure.
Just like any other massage therapy we offer clients have the choice between two packages. The happy ending four hands starts from £240ph and comes with clients choice of naked massage, plus hand relief. If you're seeking some more risqué then please do opt for our daringly delicious four hands full service, for just £80 extra. Completed by a naked massage, hand relief, oral and penetration, it definitely is a service which should be added to your bucket list.
We pride ourselves on offering professional massage in the capital and therefore host a variety of masseuses who have undergone superior massage training programmes in Asia, where they have been taught by the best in the art of seduction and Tantra. Our therapists have not only been hand-picked because of their fine skills in massage techniques, but also because of their beautiful looks too – you would easily mistake the girls as models!  The beauty of four hands massage is that you get to choose two of our stunning therapists, instead of being limited to just one. And with the choice between dainty oriental pockets, legs 11s and boobilicious beauties you really will feel like all of your Christmases have come all at once.
As well as visiting our massage parlour in Zone 1, clients can experience our orgasmic four hands massage in a location of their choice with our outcall service. We cover most hotels, homes and private office space in the Central Zone and Greater London. To see if we can send two of our
Prices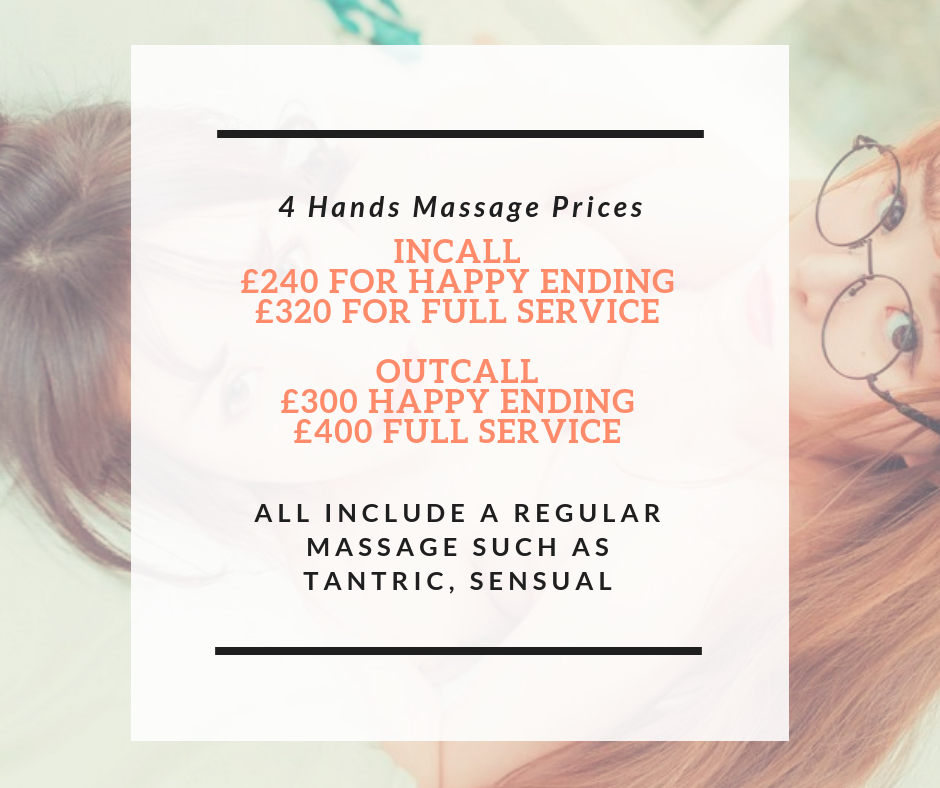 Some of our beautiful Asian masseuses that perform 4 hand massages
FAQ
Yes! Both of the masseuses you pick with take part in every part of your massage! Both working as a team to reach every point of your body and take you into ecstasy! A duo massage is every mans dream. So why not indulge yourself tonight.
Nope! Just yourself. if you have any special requests please let the masseuse's know before your massage starts and we can try and accommodate this. We have shower facilities available if you would like to shower before or after.
When booking your appointment you can ask to the book any girl from the Girl Gallery Providing that the girl you choose is not fully booked. This is important for outcall. For incall, you just select the girl's you would like to have massage you when you get here it's that simple!